with Coconut Red Curry
Medium-textured, buttery fish paired with a velvety smooth, authentically bold red coconut curry sauce, with notes of Thai basil and kaffir lime.
Our Salmon is rich in antioxidants and omega-3 — and incomparable in flavor and texture. They are deliciously firm and healthy fish that thrive in spacious pens suspended in pristine deep Norwegian fjords that hold 2% fish and 98% water. They eat an innovative and sustainable feed that conserves marine resources and reduces environmental contaminants and is one of the first farmed Salmon with a fish-in, fish-out ratio below 1-to-1.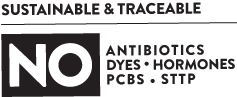 Salmon
with Coconut Red Curry
DO NOT THAW. COOK FROZEN.
PREHEAT OVEN OR TOASTER OVEN TO 400 F AND GRAB A BAKING SHEET.